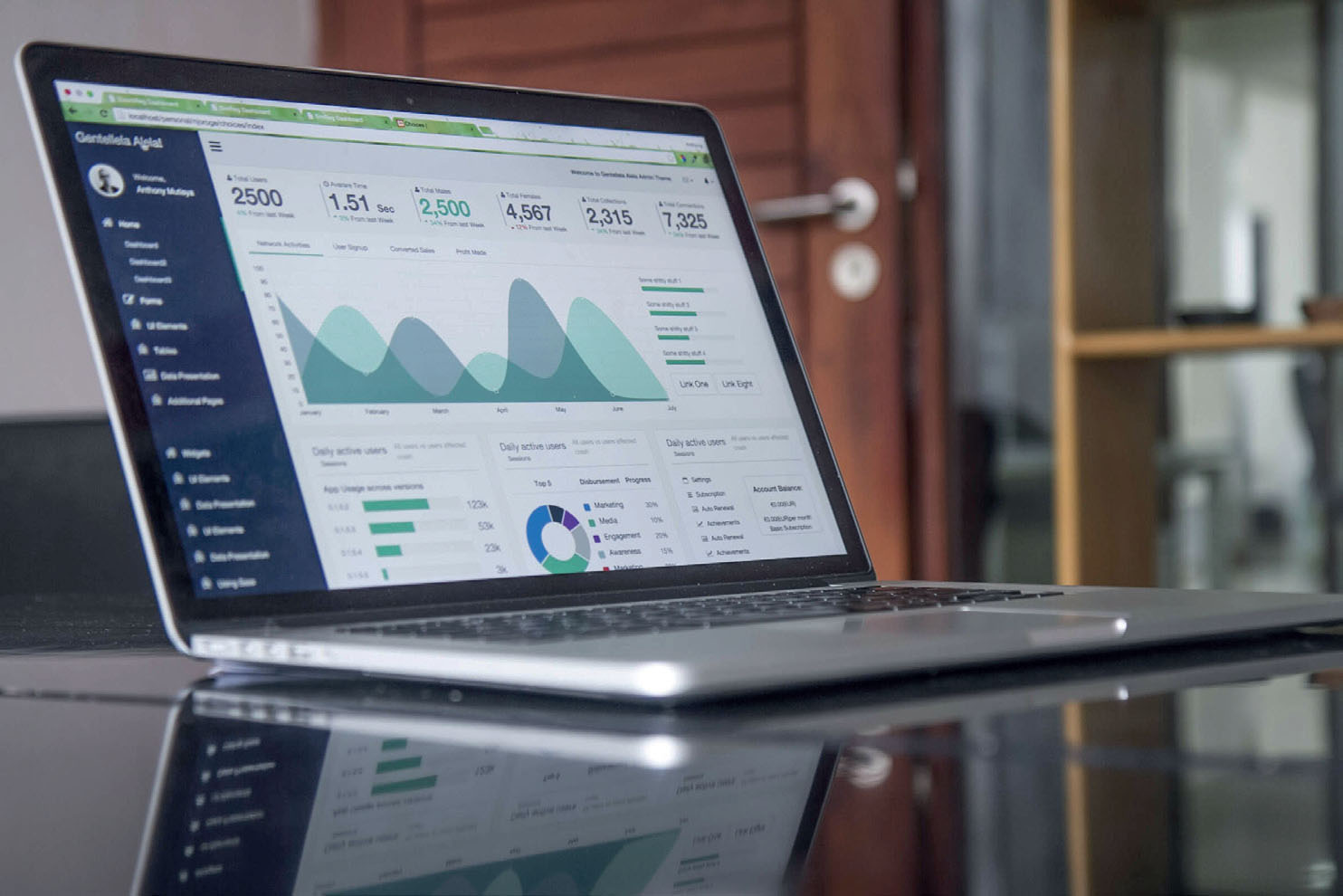 RESOURCE FOR CHURCHES & NON-PROFITS

​
You're in the right place:
▶ If you're a non-profit or ministry leader and you want to reach & impact more people using the Internet.
▶ You desire to build a highly-engaged, global audience who follow your messages.
▶ You desire to effectively connect with the next generation, disengaged, online church "browsers" & the spiritually-lost looking for answers.
▶ You've thought about using your website and social media to increase funding, donations, missions outreach, and online giving.
Google Ad Grants is a donation program that distributes $10,000 per month in free, in-kind advertising to select 501(c)(3) nonprofit organizations.
1. WHAT IS THE GOOGLE ADGRANTS PROGRAM?
ANSWER:
$10,000.00 PER MONTH IN ADVERTISING CREDITS FOR GOOGLE ADS FOR CHURCHES & NONPROFITS
This is important. The Google Adgrant program doesn't give you $10,000/month in cash. Rather, you will receive $10,000 per month in advertising credits that you can use on Google Ads, which is Google's primary advertising product.
WHAT WOULD YOU DO WITH $10K PER MONTH OF INKIND ADVERTISING FROM GOOGLE?
Increase Awareness of your organization?

Attract more donations?

Share your messages with a larger audience locally, worldwide?

Reach non-churchgoers?

Reach more millennials?

Develop your email list?

Build your audience for live streaming?

All of the above?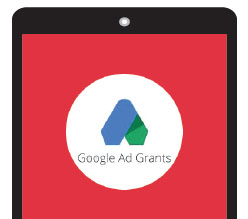 2. What are the Eligibility Requirements?
Hold valid charity status
Recognized as tax-exempt 501 (c)(3) in IRS database

Religious organizations (such as churches) with 501(c)(3) do qualify

Not one of the following: government entity, health care organization, childcare center, academic institution
Acknowledge and agree to Google's required certifications regarding donation receipt and use
Have a live website with substantial content
Your site must have a robust and clear description of your organization, mission, and activities. It must have substantial content, updated events and information, clear navigation, and clear calls to action for a high-quality user experience.

Your site's content must be unique to your organization.

Your website must load quickly, not contain broken links and be secured with HTTPS.
GOOGLE AD GRANTS IS A DONATION PROGRAM THAT DISTRIBUTES $10,000 PER MONTH IN FREE, IN-KIND ADVERTISING TO SELECT 501(C)(3) NONPROFIT ORGANIZATIONS.
3. WHY GOOGLE SHOULD BE PART OF YOUR MINISTRY'S GROWTH PLAN
GOOGLE ADGRANTS GIVES YOUR ORGANIZATION $10,000 PER MONTH OF GOOGLE ADS, GOOGLE'S PRIMARY ADVERTISING PRODUCT

YOUR ADS SHOW UP ABOVE OR NEXT TO GOOGLE SEARCH RESULTS.

PEOPLE SEARCH FOR INFORMATION THEY WANT ONLINE. THERE ARE 3 BILLION SEARCHES ON GOOGLE PER DAY.
NUMBER OF CLICKS ON GOOGLE ADS ARE AROUND 300,000,000 CLICKS PER DAY.

GOOGLE ADS SENDS SOME OF THESE VISITORS DIRECTLY TO YOUR WEBSITE TO LEARN ABOUT YOUR MINISTRY!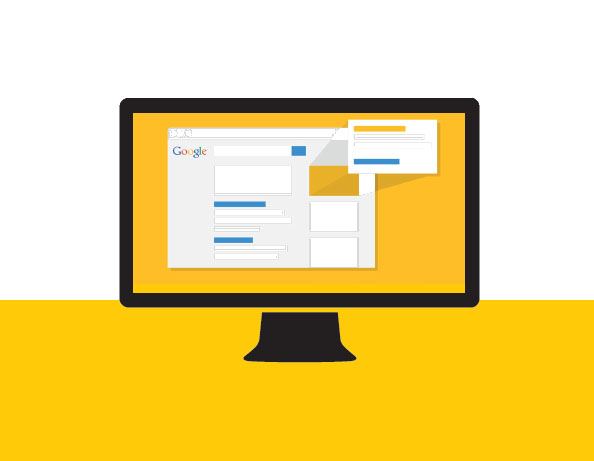 4. PROGRAM GUIDELINES
Your ads will show up above or next to Google search results. Google Ad Grants, along with other services, is made available by Google for Nonprofits and is available in over 50 countries.
You'll receive $10,000 USD of in-kind Google Ads advertising each month.


Your ads will be entirely text-based (no videos or images).

They'll appear only on Google search results pages.

All campaigns must be keyword-targeted.


Your maximum cost-per-click (CPC) will be $2.00 USD. *
NEW GUIDELINES (UPDATED August 2020)
* Your CPC can exceed the $2.00 CPC maximum with "Smart Bidding."


All accounts must maintain a minimum click-through rate (CTR) of 5%.

Overly-generic and single-work keywords are not permitted.

All keywords must have a Quality Score of 3 or above.

All new accounts must have valid conversion tracking set up


All accounts must accrue at least 1 meaningful conversion per month

All accounts must have specific geo-targeting to show ads in locations where your non-profit primarily serves

You must have at least 2 ads per ad group, 2 active ad groups per campaign and at least 2 unique sitelinks.

NEW! Ad Grants requires that accounts created on or after April 22, 2019 must use conversion-based Smart bidding for all campaigns, unless using Smart campaigns. Each campaign must use either Maximize conversions, Maximize conversion values, Target CPA, or Target ROAS bidding.
WHAT CAN $10K PER MONTH IN ADVERTISING DO FOR YOUR ORGANIZATION?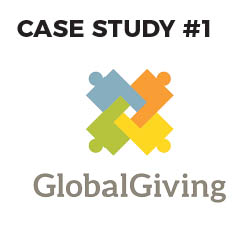 GOOGLE AD GRANTS HAS HELPED DRIVE MORE THAN 350,000 VISITORS TO OUR SITE, BRINGING AN ADDITIONAL $440,000 FROM MORE THAN 5,000 DONATIONS — AND ALL WITHOUT ANY COST TO OUR ORGANIZATION!
- Kevin Conroy, Chief Product Office, GlobalGiving
KEY METRICS
350K+ website visits and over 4K conversions

5,000+ donations totaling over $440K


Over 6+ years testing strategies in their AdGrants accounts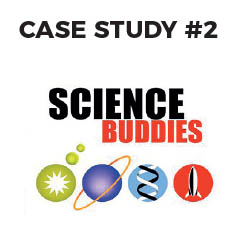 GOOGLE AD GRANTS REALLY PUT US ON THE MAP! AD GRANTS IS STILL INVALUABLE, ESPECIALLY IN LAUNCHING NEW INITIATIVES AND SERVICES.
- Kenneth Hess, Founder & President, Science Buddies
KEY METRICS
18.2+ million website visits

100K+ new students registered in a year


1.5K teachers registered in only 1 year
5. HOW IT'S DONE: RUNNING A SUCCESSFUL $10K/MO ADGRANTS CAMPAIGN
Getting accepted into the Google Adgrants program is one thing. Effectively making use of your grant budget is entirely another. Here's a bird's eye view of the elements and tools you'll need to make the most out of the Google Adgrants program for your organization.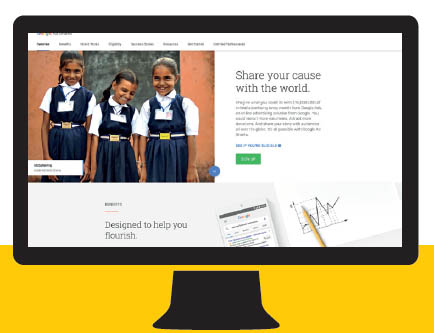 STEP #1 APPLY & ENROLL IN GOOGLE ADGRANTS
THE APPLICATION PROCESS FOR GOOGLE ADGRANTS INVOLVES MULTIPLE STEPS:
1. APPLY FOR GOOGLE FOR NONPROFITS
Apply at Google.com/nonprofits. Make sure you have the following information:
Your organization's EIN (Nonprofit ID)

Your organization's physical address


Your organization's online contact information
2. ENROLL IN GOOGLE ADGRANTS
Once you're accepted into the Google for Nonprofits program, you can enroll into the various Google for Nonprofits programs, such as Google Adgrants. The application process for Adgrants involves the following:
Create Your Google Ads Account

Setup Your Campaign (Create Keyword Groups, Create Ads, Designate Landing Pages, etc.)

Implement Conversion Tracking for Campaigns


Submit for Review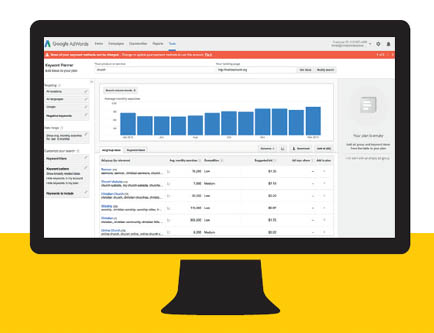 STEP #2 CHOOSING YOUR KEYWORDS
THE APPLICATION PROCESS FOR GOOGLE ADGRANTS INVOLVES MULTIPLE STEPS:
USE THE GOOGLE KEYWORDS PLANNER TOOL
Use this free tool to get help with keyword research and selecting the right search terms. The Keywords Planner tool will help you to:
Find relevant keywords for new or existing campaigns

View traffic forecasts and historical stats to plan campaigns

View suggested bids, competition reports, and much more


Keyword research is a continuous process. Successful campaigns depend on it.
Available at https://ads.google.com/home/tools/keyword-planner/
STEP #3 IMPORTANT: USING LONG-TAIL KEYWORDS
THE SEO CURVE:
To the left is called the short head - which means more generic keyword, that have higher search volume. To the right of the curve is called the long tail - which has more specific keywords.
LONG TAIL KEYWORDS MAKE UP OVER 70% OF ALL SEARCHES
When you're choosing your keywords, it's critial that you think like your audience. What kinds of specific information are they really looking for? When searching for answers for life's problems, what are they typing into the search box?
EXAMPLE #1: A SHORT HEAD KEYWORD SEARCH:
A search for the keyword "Bible" is an example of a generic, short head keyword
EXAMPLE #2: A LONG TAIL KEYWORD SEARCH:
A search for the phrase "What does the Bible say about getting out of debt?" is an example of a generic, short head keyword
In summary, if after clicking your Google ad, your new site visitor is sent to page on your website (or an audio/video/sermon, etc.) that features information on financial stewardship, that person is much more likely to stay on stay engaged on your website.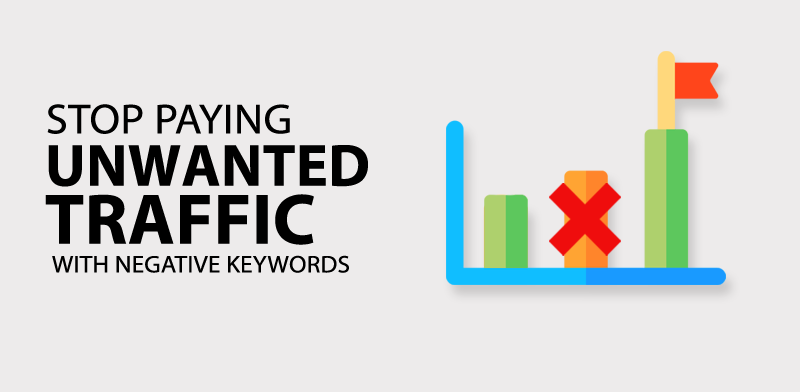 STEP #4 IMPORTANT: USING NEGATIVE KEYWORDS TELL GOOGLE
TELL GOOGLE THE WORDS TO NOT ASSOCIATE WITH YOUR AD
Negative keywords are an important part of every campaign because they help make sure that your ads appear only to people looking for what you offer.

This added level of control can help you increase your clickthrough rate (CTR), reduce your average cost-per-click (CPC), and increase your ROI.
EXAMPLE OF A NEGATIVE KEYWORD SCENARIO
If you're a local church bidding for the Keyword phrase "Local Church in Washington, DC," your ad may also show up next to similar keyword phrases, such as "Local Church's Chicken in Washington, DC."

To prevent your ad from showing in search results of latter, set "Chicken" as negative keyword for your campaign.
STEP #5 USE AD DISPLAY PREVIEWER
PREVIEW HOW YOUR ADS WILL LOOK ON GOOGLE RESULTS PAGES
When you set up your ad campaigns, one of the first thing you'll want to know is: "Is my ad showing?" Your first instinct will be to "google" your ad. Don't do that - it will skew your ad campaign metrics. Instead, use the free Google Ad Display Previewer tool. This tool show will help you to:
See if your ad is showing based on keywords and geography

Preview how your ad looks on the various ad sections on Google results pages

You'll also see a warning message and background watermark to let you know that you're in the tool - and not on a live Google results page.
Available at https://adwords.google.com/apt/AdPreview
STEP #6 ENHANCE YOUR AD WITH EXTENSIONS
GOOGLE AD EXTENSIONS:
Use ad extensions to give your prospects more reasons to click your ad. WIth Adgrants, effective use of ad extensions is important because of the
program restrictions.
ALLOWS YOU TO ADD EXTRA INFORMATION TO YOUR ADS TO BOOST PERFORMANCE
TYPES OF EXTENSIONS TO INCLUDE:
Click to Call

Locations and Local Map

Site Links: show other relevant links

Structured Snippets

Callouts: Add additional text to your ad, like r "24/7 customer support."

App Extensions: Encourage people to download your app.
Google Adgrants requires at least 2 unique sitelink ad extensions for each campaign (can be set at the account level).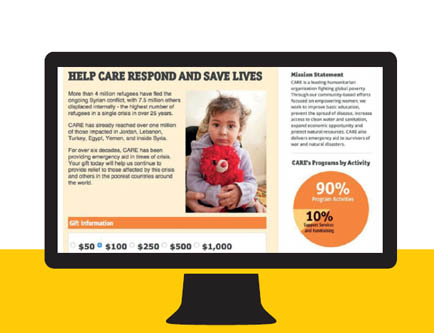 STEP #7 IMPORTANT: SETTING UP LANDING PAGES
LANDING PAGE REFERS TO WHAT SOMEONE EXPERIENCES WHEN THEY CLICK YOUR AD.
Landing pages are often overlooked, but are one of the most important parts of an effective Google Ads campaign. It's critical that when setting up your campaign, each ad takes the visitor to a well-designed, relevant landing page designed for the user to take immediate action..
Don't just send new clicks to your site homepage.

Landing page should be relevant to the ad clicked. Else, they'll leave.

Landing page for ad should clearly direct the visitor to the action you want them to take.

Effective landing pages should be simple and well-designed.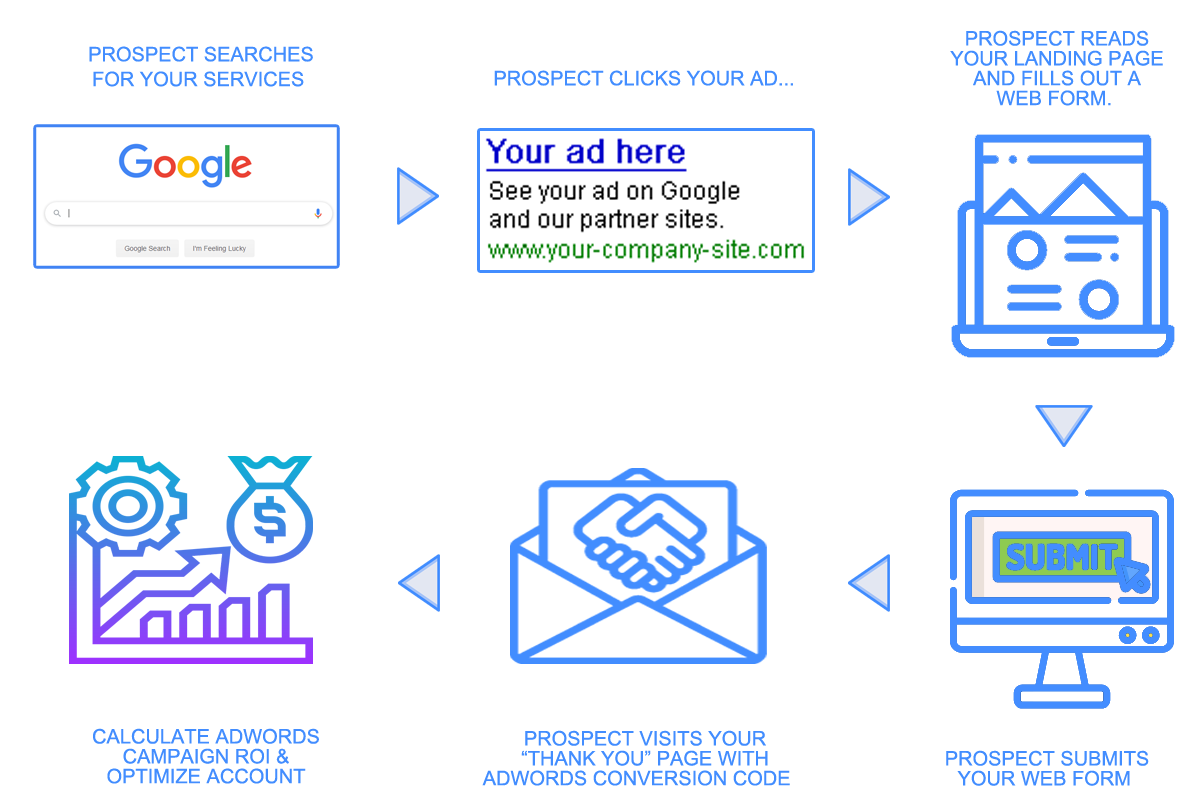 STEP #8 TIE IT ALL TOGETHER: CONVERSION TRACKING
TRACK HOW YOUR ADS PERFORM WITH CONVERSION TRACKING & GOOGLE ANALYTICS
With Google Ads conversion tracking, you can see how effectively your ad clicks lead to valuable customer activity, such as:
Donations

New Event Visitors

Phone calls

Video Views

App downloads

Newsletter sign-ups

Other important actions on your site, such as Podcast subscriptions, Live Streaming attendance, and more!
SUMMARY
TRACK HOW YOUR ADS PERFORM WITH CONVERSION TRACKING & GOOGLE ANALYTICS
Research with the Keyword Planner Tool

Long-Tail Keywords are key: Think Like a Marketer

Select Negative Keywords to stretch your budget

Consistently check the Google Ad Display Previewer

Use Ad Extensions - Click to Call, Sitelinks, Map, Mobile App

Design attractive & user-friendly Landing Pages

Track your results using Conversion Tracking & Analytics
GETTING STARTED: 2 OPTIONS
Because of the time and training necessary to make the most of your Google Adgrant, volunteers typically aren't ideal. For most organizations, they are left with two options:

Option #1: Full-Time Staff assigned to manage Google Ads campaigns

Option #2: Work with a Partner to manage the grant for you
BOOK A FREE ONE-ON-ONE PLANNING SESSION
Talk with a Go Pastor Digital Ministry Expert about how your organization can benefit from the Google Adgrants program.
Get Started Now